MASSIVE INCREASE IN CHINA RATES
Posted on 20 October 2020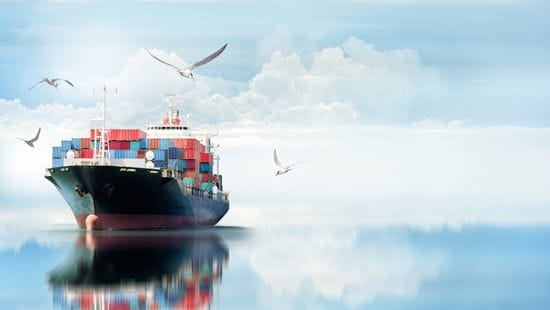 Many clients are querying why the ocean freight rates from China are so expensive this year.
Freight rates have been increasing rapidly since August 2020 and took off in September as demand before the China National Holiday reached record levels leading into October.
Below is the chart of SCFI (Shanghai Containerized Freight Index) for Shanghai/Australia to have an overview of the rate level between 2019 vs 2020 for reference.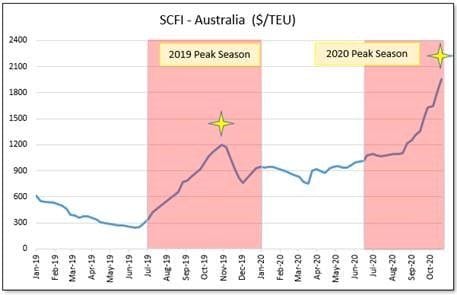 * SCFI - Shanghai Containerized Freight Index
A sharp growth in China/Australia rates has been driven by a combination of factors such as vessel delays, port omissions, ad-hoc blanks sailing and a serious lack of empty equipment in China ports. Demand is out-stripping supply and space is extremely tight.
To further complicate the situation -
Industrial action in Sydney has resulted in higher freight rates as a Congestion Surcharge was introduced for Sydney cargo and some carriers extended this to Melbourne and Brisbane as well. Some shipping lines are still restricting bookings for Sydney cargo or not accepting any bookings at all.
Adverse bad weather in Australia and Asia has resulted in port congestion, vessel delays, port omissions, change in port rotations and ad-hoc blank sailings for schedule recovery.
Covid-19 Infection cases on some vessels resulted in vessels having to lay at anchor for an additional 14 days and created further problems with the repositioning of empty containers back to China.
Equipment shortages in China ports as Empty Container Parks in Australia, especially Sydney, are full to over-flowing. All container sizes [20/40/GP/HC] are in short supply from time to time.
A cyberattack on CMA-CGM Group, one of the main carriers in the China Australia trade, caused a major system failure which created booking issues and document problems.
Traditional Peak Season and the continued increased demand for PPE materials has made space extremely tight and forced rates to increase.
As the space problem become more serious, the shipping lines have adjusted their strategy -
Daily / weekly rate offers instead of a monthly rate offering which forces rates to increase
Introduction of Cancellation Fees
Restriction on accepting bookings for 40'GP or 40'HQ
No fixed rate negotiation
Reduced flexibility to amend bookings once made e.g. change of container size, change of destination etc.
Carriers have announced a further rate increase of USD 300 / USD 600 from November 1.
It is now a fact of life that bookings need to be made 14-21 days in advance and there are no guarantees that your containers will not be rolled over to the next vessel.
Shipping lines are giving priority to higher revenue cargo so the more you are prepared to pay, the better your chances of getting your goods shipped.
If you have any questions at all, please contact your Powerhouse representative.